Face mask machine, mask machine,dust mask machine, surgial facial mask machineFull-automatic surgical mask medical face mask equipment machine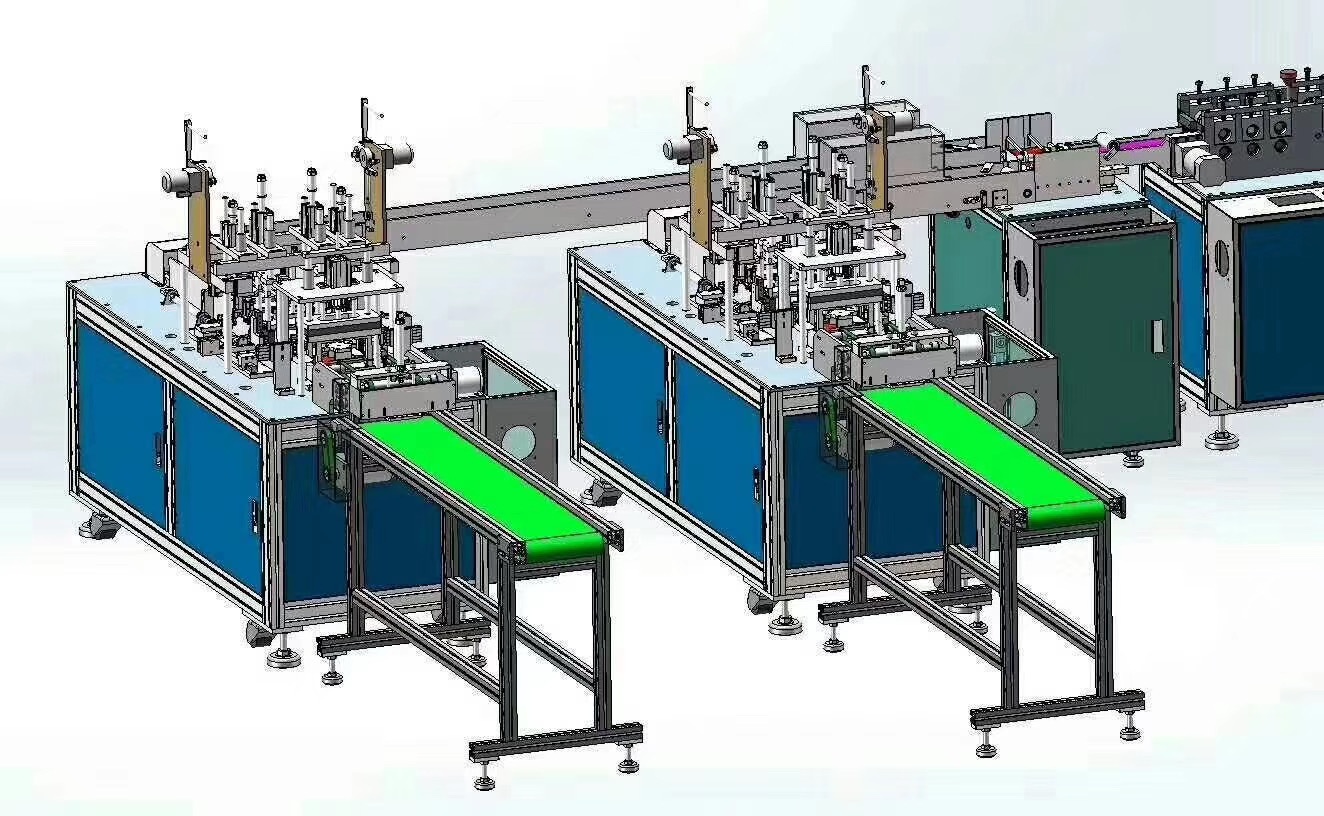 Full-automatic face mask machine
Common surgical masks:
It mainly consists of three layers of non-woven fabric.The inner layer is ordinary non-woven fabric;The outer layer is a waterproof non-woven fabric, which is mainly used to isolate the liquid from the patient.The intermediate filter layer uses electret - treated polypropylene melt-blown non-woven fabric;Finally, after the production is completed, it shall be sterilized with ethylene oxide and let stand for 7 days before volatilization toxicity, and then sealed and packed and shipped away.
I. technical parameters
Machine size: 6850(L)×3520(W) ×1990(H)MM machine size: about 6800(L)×3680(W) ×1990(H)MM
Voltage: AC220V,50HZ/60HZ,1P
Output: 90-100 pieces/min power consumption: 15KW

II.Second, the machine product characteristics
1, High stability, low failure rate, beautiful and solid without rust.
2, Computer PLC programming control, servo drive, high degree of automation.
3. Photoelectric (optical fiber) testing of raw materials to avoid mistakes and reduce waste.
The machine is fully automatic production of folding mask body machine, including automatic delivery of raw materials;Automatic transmission, cut off the bridge of the nose, mask edge welding, folding, ultrasonic fusion, molding and cutting all processes automation.


Machine size: 6800(L)×3680(W) ×2000(H)MM
Voltage: single-phase 220V maximum mask output: 100-120pcs/min. Power consumption: 15KW production qualification rate: 96-98%
III. Mechanical features:
1. Automatic tension control of raw materials to ensure balanced tension of raw materials.
2, computer program control, high output, good stability, low failure rate.
3. Photoelectric testing of raw materials to avoid mistakes and reduce waste.
4. One to four layers of mask body can be produced.
5, this machine has the total count and batch count function, batch count quantity can be set arbitrarily.
6. Change the mold to produce masks of different sizes and styles.
7, the whole machine adopts aluminum alloy structure, beautiful and strong.
Mechanically adjustable:
The folded part can be adjusted;The pattern of the fusion joint of the mask body can be specified or designed by the customer;Mechanically, masks with 1-4 layers of cloth can be made (activated carbon material can be added in the middle);Weld strength is available.

IV. technical parameters:
| | |
| --- | --- |
| Function/performance | Automatic disposable mask machine |
| Dimension | 6850(L)×3520(W) ×1990(H)MM |
| weight | 1500kg |
| power | Voltage 220V 50/60hz 1P ultrasonic, three groups |
| | PLC |
| air source | 6 kg/cm2 |
| Engine power | 15KW |
| Ultrasonic power | 20KHZ |
| Capactiy | 90-100 pc/min |
| yield | 96-98% |
| trimmed size | 175*95MM |
| Applied materials | Fiber non - woven fabric, spray fabric, elastic non - woven fabric, plastic materials |
| | It conforms to the manufacturing standard of disposable surgical mask in medical industry (YY/0969-2013), with no leakage and adhesion, no damage, nose strip and hanging ear |